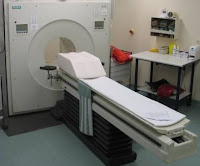 F18 Amyloid Scans are a relatively new technology that scan the brain for Alzheimer's plaques. At over $2000 a scan, how crucial are they? A new study comes up with a clear picture of when it may or may not be worth it.


---
Baltimore, Md.  – New research presented during the 2015 Annual Meeting of the Society of Nuclear Medicine and Molecular Imaging (SNMMI) demonstrates that F18 amyloid positron emission tomography (amyloid PET) scans of the brain provide clearer diagnosis and earlier, more effective treatment for Alzheimer's patients, when results of a more conventional PET scan remain ambiguous.
Researchers reviewed the clinical outcomes of two kinds of PET scans:
FDG-PET is a preliminary scan with a common radiotracer called FDG (fluorodeoxyglucose), which acts like glucose in the brain to capture images of metabolic activity.
Amyloid PET involves a more specialized radiotracer. Used to scan for Alzheimer's, it is a different kind of imaging agent that binds to deposits of natural beta-amyloid proteins in the brain.
Results of the study showed that for FDG-PET scans that did not provide a definitive diagnosis, an additional amyloid PET scan contributed to an accurate prediction of cognitive decline.
"By acquiring an amyloid imaging scan within a month of the indeterminate FDG-PET, managing physicians can treat patients with an Alzheimer's-like pattern of reduced brain metabolism with a better chance of preserving cognitive function," said Erica Parker, lead author of the study and a research coordinator at the University of California, Los Angeles.
For this study, FDG and amyloid PET data from 100 study participants with mild cognitive impairment were evaluated independently in two blinded readings conducted by a radiologist and a nuclear medicine physician. Readings were documented as positive, negative or indeterminate for neurodegenerative disease.
Results showed 82 percent of patients whose readings were initially indeterminate experienced subsequent cognitive decline.
Amyloid PET scans were found to be positive in half (50 percent) of cases that were indeterminate using FDG-PET alone. These results were then integrated with results of another study, which found that Alzheimer's treatment was administered earlier for 40 percent of patients with positive FDG-PET scans. Additionally, the subjects who began the Alzheimer's treatment earlier had better cognitive outcomes. Combining these analyses, the researchers found that up to 17 percent of those who had an amyloid scan after an ambiguous FDG-PET scan can expect to experience statistically significant improvements in cognition by the two-year follow-up.
Conclusions
People are often not completely certain of their type of dementia. In such cases, they may often find amyloid PET scans help them to get better treatment.
REFERENCE:
Scientific Paper 191: "Projected value of amyloid imaging in improving long-term clinical outcomes in MCI patients with prognostically ambiguous FDG-PET," E.M. Parker, B. Durcanova, D. Diaz-Aguilar, N. Torosyan, J. Chew, M. Dahlbom, J. Czernin, M.E. Phelps, D.H. Silverman, University of California Los Angeles, Los Angeles, Calif.; SNMMI's 62nd Annual Meeting, June 6–10, 2015, Baltimore, Md.
---
MORE INFORMATION:
About the Society of Nuclear Medicine and Molecular Imaging
The Society of Nuclear Medicine and Molecular Imaging (SNMMI) is an international scientific and medical organization dedicated to raising public awareness about nuclear medicine and molecular imaging, a vital element of today's medical practice that adds an additional dimension to diagnosis, changing the way common and devastating diseases are understood and treated and helping provide patients with the best health care possible.

SNMMI's 18,000 members set the standard for molecular imaging and nuclear medicine practice by creating guidelines, sharing information through journals and meetings and leading advocacy on key issues that affect molecular imaging and therapy research and practice. For more information, visit www.snmmi.org.
SOURCE: