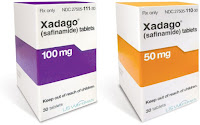 MEDICATION: Xadago tablets for Parkinson's are FDA and EU Approved. Xadago is a new Parkinson's disease drug that helps at those times of the day when a patient's regular medications are not working well. Learn more.
---
XADAGO (safinamide) is currently available for U.S. and E.U. patients with Parkinson's disease (PD).
What Is It?
XADAGO is an add-on-therapy for patients already taking levodopa/carbidopa and experiencing "off" episodes. Levodopa/carbidopa, also known by the brand names STALEVO and SINEMET, are a "combination drug" commonly used by patients with PD (Parkinson's disease).
XADAGO, a once-daily tablet, is the first New Chemical Entity approved in the U.S. for PD-related motor fluctuations in more than a decade for the estimated 1 million patients currently affected by PD (Parkinson's disease).
According to the U.S. Food and Drug Administration (FDA), an "off" episode is a time when a patient's medications are not working well, causing an increase in Parkinson's symptoms, such as tremor and difficulty walking.
How It Works
XADAGO is an inhibitor of monoamine oxidase B (MAO-B). Inhibition of MAO-B activity, by blocking the breakdown of dopamine, is thought to result in an increase in dopamine levels and a subsequent increase in dopaminergic activity in the brain.
Significant Improvement
Dr. Stuart Isaacson, MD, Director Boca Raton Institute for Neurodegenerative Disorders commented: "The approval of XADAGO offers an important new treatment option for the Parkinson's community. XADAGO is the first New Chemical Entity approved for the treatment of PD-related motor fluctuations in the U.S. in over a decade. In clinical trials, patients on once-daily XADAGO demonstrated significant improvement in 'on' time without troublesome dyskinesia."
The efficacy of XADAGO was shown in clinical trials with over 1100 PD patients who were taking levodopa/carbidopa and experiencing "off" time. Those receiving XADAGO experienced more beneficial "on" time, a time when Parkinson's symptoms are reduced, without troublesome dyskinesia, compared to those receiving a placebo. The increase in "on" time was accompanied by a reduction in "off" time and better scores on a physician-assessed measure of motor function performed during "on" time than before treatment.
"We are very excited to be launching XADAGO," said P. Breckinridge ("Breck") Jones, CEO of US WorldMeds. "Part of US WorldMeds' mission is to develop and market meaningful and accessible healthcare products that improve lives and result in a thriving community of patients. We are confident that XADAGO will progress that mission by providing a new treatment option to Parkinson's patients."
FDA and EU Approved
The U.S. Food and Drug Administration (FDA) approved XADAGO, which is under license from Zambon S.p.A., a multinational specialty pharmaceutical company based in Milan. XADAGO has been available since 2015 in the EU and is now sold in 12 countries.
"Zambon is proud to announce the U.S. market launch of XADAGO by our partner US WorldMeds, whose experience and commitment to Parkinson's disease will bring value to patients in need of new treatment options," said Roberto Tascione, CEO of Zambon.
Stefan Weber, CEO of Newron Pharmaceuticals said: "We are proud to see XADAGO become the first FDA approved new chemical entity for Parkinson's disease in more than 10 years. We believe XADAGO has the potential to significantly improve the quality of life of PD patients in the U.S., as it already has in many other countries around the world."
MORE INFORMATION:
For more information about XADAGO (safinamide) in the U.S., visit www.XADAGO.com, or call 888-4-XADAGO (888-492-3246).
About XADAGO (safinamide)
Safinamide is a New Chemical Entity with a mechanism of action characterized by selective MAO-B-inhibition. Results from two double-blind, placebo-controlled, multinational, 6-month studies with over 1,100 patients revealed that safinamide provides a statistically significant increase in on time without troublesome dyskinesia, as well as a decrease in off time. Safinamide is a once-daily dose and has high MAO-B versus MAO-A selectivity. Safinamide is an add-on therapy to levodopa/carbidopa, and has not been shown to be effective when used alone. Zambon has the rights to develop and commercialize XADAGO globally, excluding Japan and other key territories where Meiji Seika has the rights to develop and commercialize the compound. The rights to develop and commercialize XADAGO in the U.S. have been granted to US WorldMeds, by Zambon. For more information about XADAGO in the U.S., visit www.XADAGO.com, or call 888-4-XADAGO or 888-492-3246.
References:
Borgohain R, et al. (2014) Randomized trial of safinamide add-on to levodopa in Parkinson's disease with motor fluctuations. Mov Disord, 29: 229–237.
Schapira A, Fox S, Hauser R, et al. (2016) Assessment of safety and efficacy of safinamide as a levodopa adjunct in patients with Parkinson disease and motor fluctuations. A randomized clinical trial. JAMA Neurology 2017 Feb 1;74(2):216-224. doi: 10.1001/jamaneurol.2016.4467
About Parkinson's disease (PD)
PD is the second most common chronic progressive neurodegenerative disorder in the elderly after Alzheimer's disease, affecting 1-2% of individuals aged ≥ 65 years worldwide. The prevalence of PD is expected to grow in the next years due to the increase in the global population and advancements in healthcare that contribute to an aging population at increased risk for PD. The diagnosis of PD is mainly based on observational criteria of muscular rigidity, resting tremor, or postural instability in combination with bradykinesia. As the disease progresses, symptoms become more severe. Early-stage patients are more easily managed on L-dopa. L-dopa remains as the most effective treatment for PD, and over 75% of the patients with PD receive L-dopa. However, long term treatment with L-dopa leads to seriously debilitating motor fluctuations, i.e. phases of normal functioning (ON-time) and decreased functioning (OFF-time). Furthermore, as a result of the use of high doses of L-dopa with increasing severity of the disease, many patients experience involuntary movements known as L-dopa-Induced Dyskinesia (LID). As the disease progresses, more drugs are used as an add-on to what the patient already takes, and the focus is to treat symptoms while managing LID and the "off-time" effects of L-dopa. Most current therapies target the dopaminergic system that is implicated in the pathogenesis of PD, and most current treatments act by increasing dopaminergic transmission that leads to amelioration of motor symptoms.
References:
BMC Oertel. European Handbook of Neurological Management, Vol1, Chapter 14 & 15, 2011. NICE PD guideline, 2006.
Important Safety Information:
During treatment with XADAGO you may experience increases in blood pressure. Inform your physician if you have a history of high blood pressure. Possible symptoms of an unsafe rise in blood pressure include severe headache, blurred vision, confusion, seizures, shortness of breath, severe anxiety, and nausea and vomiting. Contact your doctor or seek immediate medical attention if you experience any of these symptoms.
The most common side effects seen with XADAGO are uncontrolled movements (dyskinesia), falls, nausea, and insomnia.
Some patients treated with XADAGO experienced drowsiness or sudden onset of sleep. Do not drive, operate heavy machinery, work in high places or do other dangerous activities until you know how XADAGO affects you.
SOURCE: