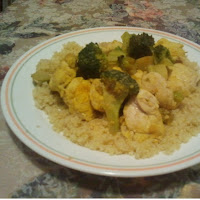 RECIPE + RESEARCH LINKS:
Enjoy a healthy brain-boost, along with great flavor, in a chicken-and-broccoli dish. This Mediterranean-style plate is loaded with neuroprotective turmeric & cumin, as well as ginger. Enhanced with brain-nutritious, delicious coconut or olive oil, the flavor is close-to-home, yet exotic at the same time!
---
For information on the health benefits of these ingredients, check out:
Prep Time: 30 minutes
Total Time: 30 minutes
Servings: 5 Servings
Ingredients
Directions
Slice the onions into strips. Slice the chicken also into strips. Cut the broccoli into bite size chunks
Mince the garlic and ginger together into one chunky paste.
Saute the onions in oil until softened. 5 minutes.
Add Ginger and Garlic Paste. Cook 1 minute
Add Spices. Cook 1 minute
Add chicken and broccoli. Cook until the chicken is no longer pink in the center and the broccoli has reached your desired texture. Add the juice from the lemon and mix.
Serve over brown rice or whole wheat couscous..