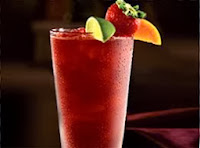 BRAIN-HEALTHY RECIPE:
Ring in the New Year in style and moderation with this tantalizing sangria. Red wine is brain-healthy in moderation (1 or 2 glasses), because it is rich in resveratrol, which keeps neurons young and strong. Berries pack a neuroprotective punch, with their rich complement of fisetin and antioxidants. Raise your glass to this "low-risk-big-taste" fruit-and-wine pair. Happy New Year!
---
Prep Time: 8 minutes
Ingredients:
1 bottle of red wine (750 ml)
1/2 cup raspberries (fresh or frozen)
1/2 cup blackberries (fresh or frozen)
1/2 cup blueberries (fresh or frozen)
1/2 cup strawberries (sliced)
1 12 oz. bottle of ginger ale
1/2 cup sugar
2 oz. blackberry liqueur
Preparation:
Toss the wine, the berries, the blackberry liqueur and the sugar in a pitcher.
Cover and place in the refrigerator overnight.
Pour in a bottle of chilled ginger ale just prior to serving.
Add ice in either the pitcher or individual glasses.
Enjoy!
SOURCE: www.TasteBook.com