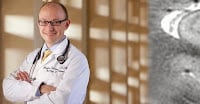 VIDEO:
Dementia can make it difficult to recognize familiar faces, or even trigger hallucinations. Lewy body dementia is particularly susceptible to such visual problems. Watch Stanford's Dr. Kirshner answer a few questions on the topic.
---
For a more in-depth look at this subject, go to the following article:
SOURCE:
Geoff Kerchner, MD, PhD, Neurologist and Neuroscientist at Stanford's Center for Memory Disorders and Stanford University School of Medicine

Videorecording was paid for by a grant from CurePSP and Stanford APDA.