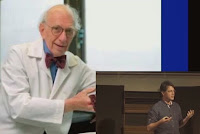 TEDx HEALTH VIDEO:
Alzheimer's & brain insulin are so strongly connected, it's earned Alzheimer's the nickname, "Type-3 Diabetes." Watch this eye-opening, entertaining video to understand the connection. Find out what you can do.
---
Learn how you can control your brain's glucose/insulin levels through lifestyle elements. Exercise, caffeine intake, drinking red wine and eating right have direct and measurable impact on brain function and Alzheimer's risk.
Related Videos & Articles:

Find out how lifestyle can change your body and brain at the molecular level. See how every day diet – and even things like doing a crossword instead of watching TV – effect your brain's function.