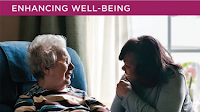 VIDEO – DIAGNOSIS+CARE:
Misperceptions triggered by dementia are often misdiagnosed as hallucinations. The result? Unnecessary, harsh antipsychotic treatments. Dr. G. Allen Power has fought over-medication for more than a decade. See Dr. Power's practical techniques for rising above this dangerous practice.
---
Dr. G. Allen Power is a board-certified internist, nursing-home practitioner, specialist geriatrician, Associate Professor of Medicine at the University of Rochester, and an Eden Alternative Educator and Mentor.
For a decade, he has taken every opportunity to discuss the common over-use of medication in dementia.
Watch him share memorable stories and helpful insights into delusions, hallucinations and misperceptions in dementia.
SOURCE:
AgeSong Senior Communities