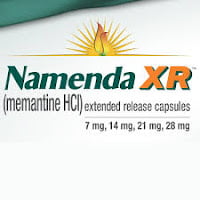 Namenda is the most widely prescribed medication for mid-stage Alzheimer's. Some of our readers have had trouble filling their Namenda prescriptions. Here's the latest update on the "what-and-why". Please share your experiences in the comments section.
---
High demand for slow-release Namenda-XR is causing a shortage of the drug.
The shortage was caused by a successful promotional campaign by the drug's manufacturer, Actavis Plc.
The campaign encouraged people to switch from regular 5-milligram and 10-milligram doses of Namenda to the new, slow-release version, Namenda-XR.
Actavis's patents for the 5-milligram and 10-milligram doses of Namenda expire in October 2015 and some generic drug manufacturers can start selling competitor products three months before that. On the other hand, the latest patent on Namenda-XR, the slow-release version of the Alzheimer's pill, extends through September 2029. Actavis already sells over a billion dollars a year of Namenda.
Many people have connected the dots in a negative pattern. They claim that Actavis is acting recklessly to hold on to its marketshare of people using brand-name Namenda. By pushing hard for people to get used to asking for Namenda-XR now, even though there is not enough around, Actavis may keep many people from switching to the less expensive generic version called "Memantine". Generic Memantine should start rolling out from other manufacturers in the weeks ahead, offering substantial savings.
Actavis extended its schedule for discontinuing the 5-mg and 10-mg doses of Namenda until the end of the year, from initial plans to stop selling the drug in August, as a result of these supply issues with the slow-release pill.
"We're working as fast as we can to fix supply for the XR version," said David Belian, an Actavis spokesman, referring to the extended-release version of Namenda. He declined to provide details about when Actavis can rectify the Namenda-XR supply shortage.