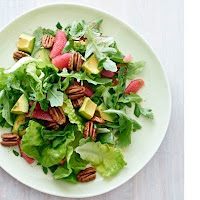 BRAIN-HEALTHY RECIPE:
This appeals to the senses: beautiful to look at, delicious to taste, refreshing aroma from dementia-shielding citrus and satisfying crunch from brain-healthy, antioxidant rich Pecans.
---
In this recipe, avocados sub for the cheese, while toasted Georgia Pecans sub for the crunch of croutons and flavor hit of bacon (You could even use smoked pecans).
For the salad:
1-2 heads bibb lettuce, torn into bite-sized pieces

1 bunch arugula, torn into bite-sized pieces

2 Haas avocados, ripe but firm, peeled and cubed

2 ruby red or pink grapefruits, peeled and segmented, reserve excess juice

½ cup toasted Georgia pecan halves (toasted in a sauté pan)

¼ cup minced fresh parsley.
For the dressing:
2/3 cup extra virgin olive oil

1/3 cup red wine vinegar

Juice from segmented grapefruit (approx 3 tablespoons)

Fresh ground salt and black pepper to taste.
On large platter arrange the lettuce and arugula.
On the bed of greens arrange the avocado and grapefruit segments.

Combine the ingredients for the dressing and drizzle over the entire salad.

Garnish with toasted Georgia Pecans.

Add final garnish of minced parsley.